Mercury Retrograde: 3 Spells to Ease Your Way Through
We are all familiar with Mercury Retrograde. We've all blamed it for some reason whether that be lost emails, communication errors, road blocks or any other issues regarding communication, technology or travel.
Half Of Our Lives Is Spent During Mercury Retrograde 
3-4 times a year we are affected by this planetary event. It lasts for 2 months each which totals 6-8 months of the year. That means half of our lives is spent under the influence of Mercury Retrograde. 
Even though mercury retrograde has a bad rep with messing with our day to day lives it is a powerful opportunity to shift your mindset and turn your blocks into growth and evolution. 
The first step is to being aware of what I like to call areas for elevation. These are the moments when you feel emotionally elevated. When your heart rate speeds up, you become dis regulated, irritated and stressed. It can even lead you to feeling attacked, putting you in a defensive position where you are guarded and unable to acknowledge anything other than the turmoil inside of you. 
If you can during these emotionally elevated moments, and I know this can be asking a lot, step away from the situation and begin the process of regulating your nervous system. Breathing is by far the best way to begin this process. 
3 breathing techniques to regulate your mind, body and spirit.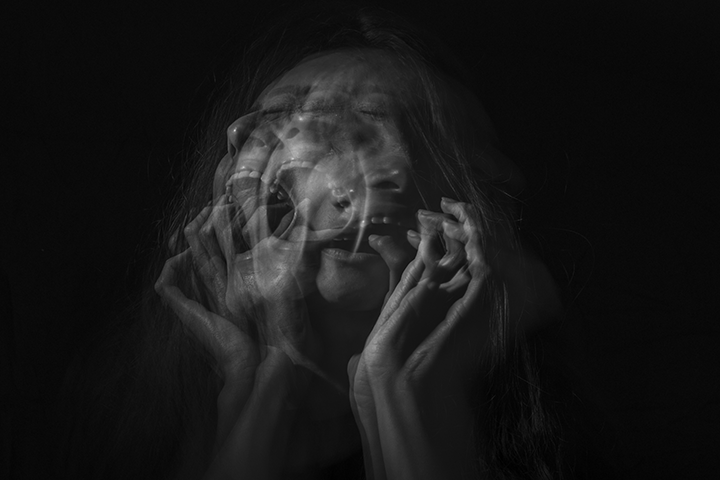 Scream Into Your Pillow
The first and often easiest is if you can go grab a pillow in a separate room and scream as loud and as hard as you can into it. Let out that gut wrenching primal scream we all have inside of us. 
Whether it be the adrenalin that begins coursing through your body or the release of the pent up energy, I find that I begin to quickly feel a lot better after this practice.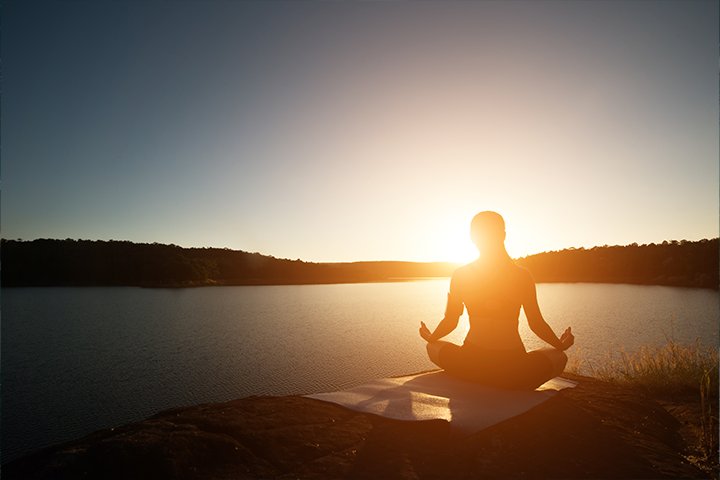 Breath of Fire
The breathing technique known as Breath of Fire involves passive, normal inhalations and powerful, rapid exhalations.
This style of forced exhalation may help reduce stress, boost brain function, and improve respiratory health. It's also said to strengthen the abdominal muscles and improve digestion.
How to do breath of fire
Start in a seated cross-legged position. Sit up tall.
Place your hands on your knees, palms facing upward. You can also place a hand on your belly to feel it rise as you breathe.
Inhale through your nose, feeling your belly expand as you do so.
Without pausing, exhale forcefully through your nose while contracting your abdominal muscles. Keep your inhales and exhales equal in length. Repeat until you're comfortable with the pattern.
Continue the rhythm, inhaling passively and exhaling forcefully. Repeat several times to practice.
Now, speed up the inhales and exhales. Your exhales should be powerful and loud.
Repeat for 30 seconds.
Over time, you can try doing Breath of Fire for longer.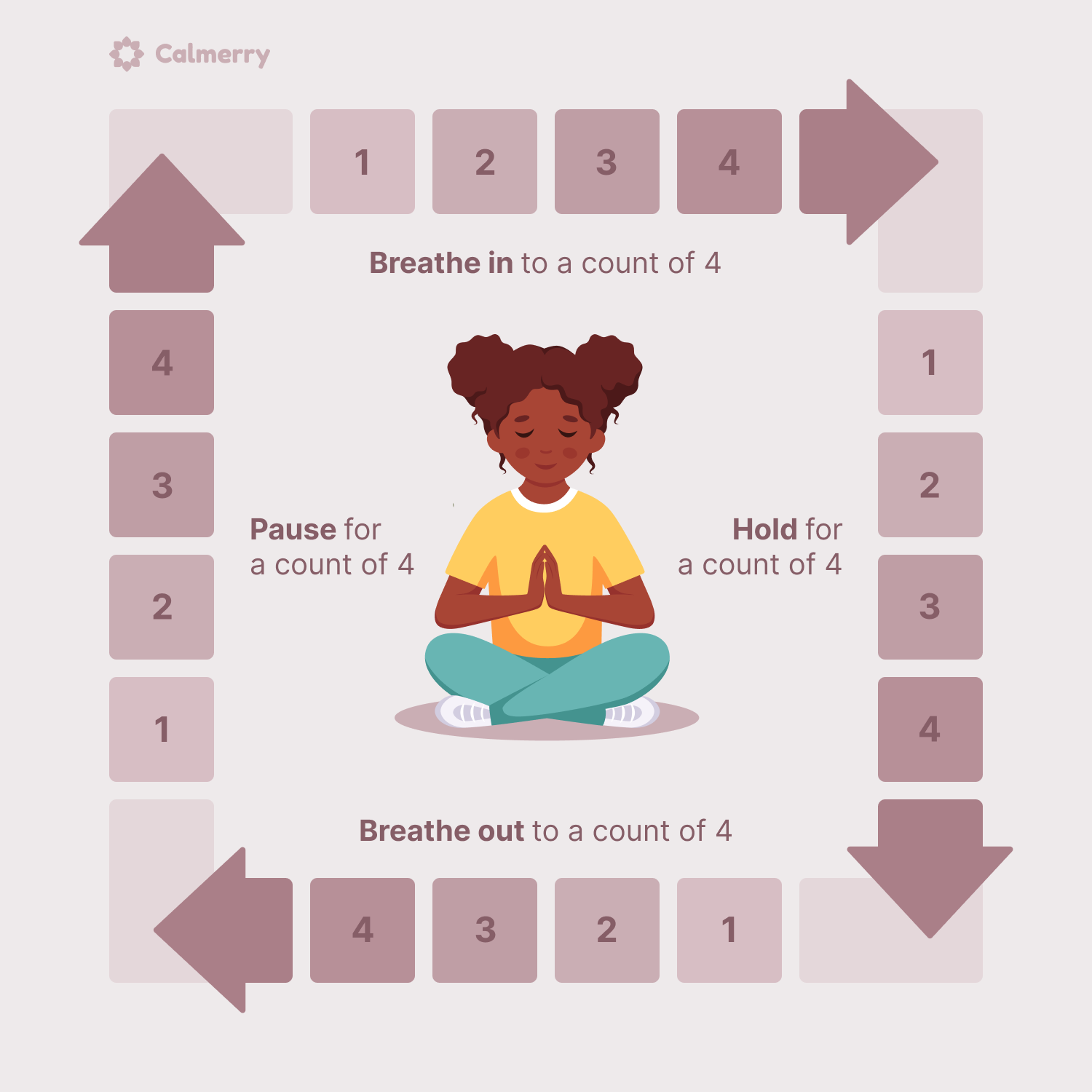 Square Breathing
This is a breathing technique you can practice anywhere in any position. I've recently spent several hours using this technique during a tattoo session. It worked wonders to keep me calm and help me manage the pain. 
How to do square breathing
Begin by slowly exhaling all of your air out.
Then, gently inhale through your nose to a slow count of 4.
Hold at the top of the breath for a count of 4.
Then gently exhale through your mouth for a count of 4.
At the bottom of the breath, pause and hold for the count of 4.
Repeat
You might want to set an intention, or invite a neutral or positive image to focus on during your breathing practice. Your intention could be "relaxation," or "healing" -- whatever you find engaging and authentic for you.
While breathing I focus on how my body physically feels. The air moving in and out of my nose, filling mu lungs, the tightness in my chest and belly when I have a full breath of air and the sensation of pulling my stomach towards my spine when I'm exhaling. 
This is a wonderful technique to use to ground yourself and bring yourself out of your mind and into your body.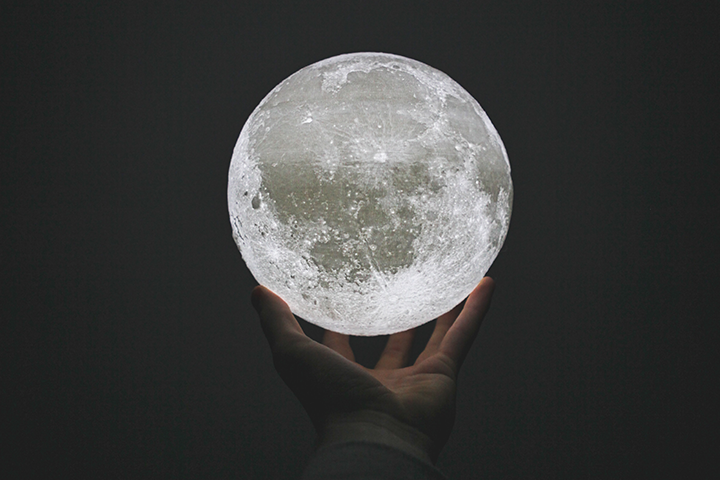 Mercury Retrograde Offers Opportunities For Growth
When I have moments to spare, often during my commute, in the shower or before bed I like to revisit my day and see if there is any moments that stand out. This is particularly important to do during mercury retrograde when our challenges around communication, technology and travel comes to the surface. 
Think back to moments when you were particularly challenged. These are opportunities for growth and evolution. Reflect on what triggered you and why. Next time you encounter a similar event it may be easier to look at it with empathy and softness. 
I have found myself in many cycles that did not serve me. Whether it be with money, with love, with my self worth or any other area of my life that left me feeling less than, mercury retrograde always brought that up, over and over again.
If you find yourself always complaining about the same things, re-living the same cycle again and again, there's a message there. It is time to look within and evolve.
If you've been fearing mercury retrogrades we want to share 3 easy spells to bolster your communication, ground your anxiety and help you feel at ease with this planetary event. 
3 Spells To Ease Through Mercury Retrograde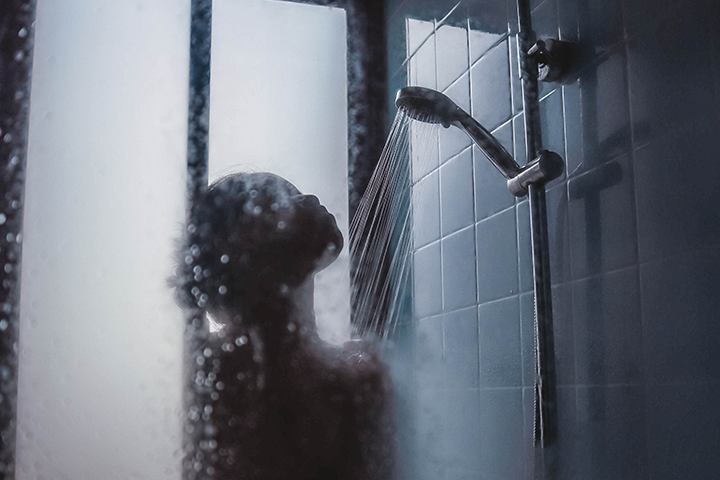 Shower Cleansing Ritual
Shower cleansing rituals are my favourite ways to add magic to my day. Everyone needs to clean themselves and adding a magical soap is the easiest way to turn any shower into a ritual. 
While in the shower soap your body from head to toe without washing any of it off. While covered in soap feel all that does not serve be pulled out of your pores into the suds. 
When you're ready step into the running water and allow it to wash away the soap and all that old energy. Close your eyes and visualize dark mud (representing that unwanted energy) being showered off of you. 
For our morning shower people we suggest using Evil Eye Soap or our Cedar and Sage Soap. 
Use Evil Eye products to wash away any negativity, bad luck or ill will and hand it back to those who threw it in the first place.
Cedar and Sage Soap offers the spiritual properties of cleansing, purification, inner balance and protection. This combination of cedar and sage creates a peaceful aura, cleanses away negativity, grounds and makes way for healing and peace. The perfect set up for working through all those mercury retrograde opportunities. 
For those who prefer to shower before bed we suggest using our Clearance Conjure Soap or our Tranquility Soap. 
Clearance soap is used to cleanse your body, mind & soul to clear out any negativity that may be attached to you. It's also helps with overcoming unseen obstacles, tough situations or problems that can stand in your way or cause you issues.
In our Tranquility Soap lavender is used to clear and relax your mind from stress and anxiety before bed or anytime during your day. This is the perfect shower soap to offer deep reflection and soothe your way through growth and evolution.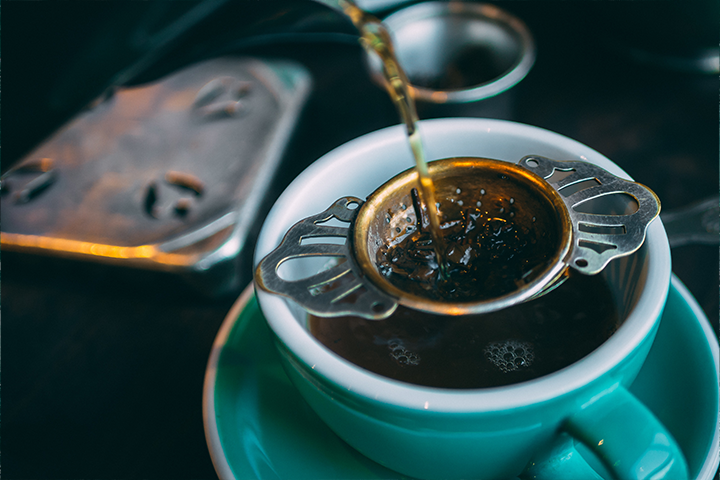 Tea Spell for Communication
This ritual is perfect for mornings or to sip on any time during the day. Drink it after your morning coffee or combine it with your morning tea. 
We suggest using our Temperance Magical Tea. Temperance Tea is created with the qualities of balance, harmony, patience and good communication in mind. 
The herbs and flowers in this beautiful and delicious tea, are both spiritually and physically healing. A natural blend to relieve pain, headaches and relax muscles. Spiritually this tea works to calm and balance your spirit, cleansing your mind and aura of the clutter and frustration.
I like to hold my herbs in my hand and whisper my intention over top of them three times. Steeping the tea in the water provides an opportunity to warm your hands and infuse your tea further with your intention. 
Sit with your tea, feel the warmth seep through your hands into your body. Take a sip and feel the magic enter your body as you swallow. Feel it permeate your body, mind and spirit. As you drink your tea visualize your intention coming true. How would it feel, look, taste, smell, what would it sound like? Use all your senses. 
Follow our direction for a Tea Ceremony For Conscious Communication to give power to your words throughout Mercury Retrograde. Break the habit and empower yourself to think before you speak. 

Candle Spell to Activate Your Stones
When you use this spell you provide purpose to your stones. You will create a magical talisman that you can carry upon your person to aid you through your mercury retrograde challenges. 
This spell requires 1 blue candle and the summoning and blessing by the Greek God Hermes. 
Light the candle and hold it at your heart centre over the object saying:
Hermes, draw near, and my plain prayer hear!
Swift god, bring this to life. 
It speaks of the traveler, the teacher, the communicator.
In the name of Hermes and his allies, wise god,
Render life to this.
Spirit made flesh. 
While encircling the object in a counterclockwise direction three times, recite:
Cleanse this, bright god.
Spirit made flesh. 
Bring the candle back above the object at your heart. Circle it three times in a clockwise motion saying: 
Protect this, sly god.
Spirit made flesh. 
Bring the candle back above the object at your heart and say:
Awaken as companion on the journey,
Helpmate and guide,
Blessing us both.
As I speak it,
So it becomes,
Hear me,
Hail Hermes and his allies.
Stones to guide you through Mercury Retrograde:
Sodalite
Sodalite opens the mind to logic and rationality, inducing clarity and comprehension. It is celebrated as one of the most powerful crystals for rinsing the body of toxic vibes most associated with fear and guilt, Sodalite pushes you higher to claim that confidence clarity and emotional intelligence that is needed for enhancing self-trust.
Staff Picks:
Sodalite Crystal Chip Bracelet
Blue Lace Agate
Blue Lace Agate is aligned with the higher chakras and encourages good, clear communication of even complex ideas. It is said to help us listen and see the truth in all things.
Staff Picks:
Blue Lace Agate Crystal Chip Bracelet
Amazonite
Amazonite has shades of turquoise-green, promising to soothe the spirit and calm the soul. It's a wonderful healer for the emotional body. It soothes trauma and calms the mind, alleviates worry and fear, and directs anger and irritability into a more positive action. 
Staff Picks:
Amazonite Crystal Chip Bracelet
Turquoise
Turquoise's energy is all about serenity and peace. It works closely with our throat chakra which is the core of our communication and feeling heard – both of which add to our sense of self-worth. 
Staff Picks:
Aquamarine
Aquamarine helps us to gain insight, truth, and wisdom. It can be used to help calm the mind, nerves, and anxieties.
Staff Picks:
The most underrated ingredient in all spells in patience. Growing and evolving takes time, takes rest and takes patience. It's not a sprint but a life time journey, there's zero rush. 
The celestial bodies work with us for us. So we can evolve and grow into better versions of ourselves. Trust the process, trust your emotionally elevated state, that there's a message under all that energy. 
Most importantly, be gentle with yourself. When you fight against your transformation it becomes much harder to get through. If you surrender to the magic you'll ease your way into a new version of you.